Hialeah's
Best Commercial Metal Roofing Contractors
What does it take to have a good roofing system that can offer you amazing performance without disappointing you with the design? Not too much effort.  Commercial property owners always have to worry about making sure that their roofs not only look good but also are durable and long-lasting.
But among all the parts and areas of a property or building, why would we talk about the roof? Well, it has an important role in not only the final design of the property but also how long it will last. Just think about it for a second, without a good roof, what do you think will happen with the rest?
Exactly! We don't even have to mention it. For business, things get a bit more important than even homeowners since they not only have to worry about themselves and their preferences but also consider their clients and the people who will have access to the building. As a result, the roofing system you decide to install cannot be decided by the looks only.
You need to consider the aspects that actually make it a good roof like the durability, longevity, the cost, how much it offers, and ROI. The last part is probably not that important for some business owners since they believe there is not a possible way to obtain some money back from the roofs they choose. But it is all about how you play your cards and how well-informed you are.
You can get a roof that offers everything as long as you take your time to look for some information and actually get to know what you have available in the market. Also, we would recommend you to open your mind regarding all the options you can find or you might end up losing very good opportunities.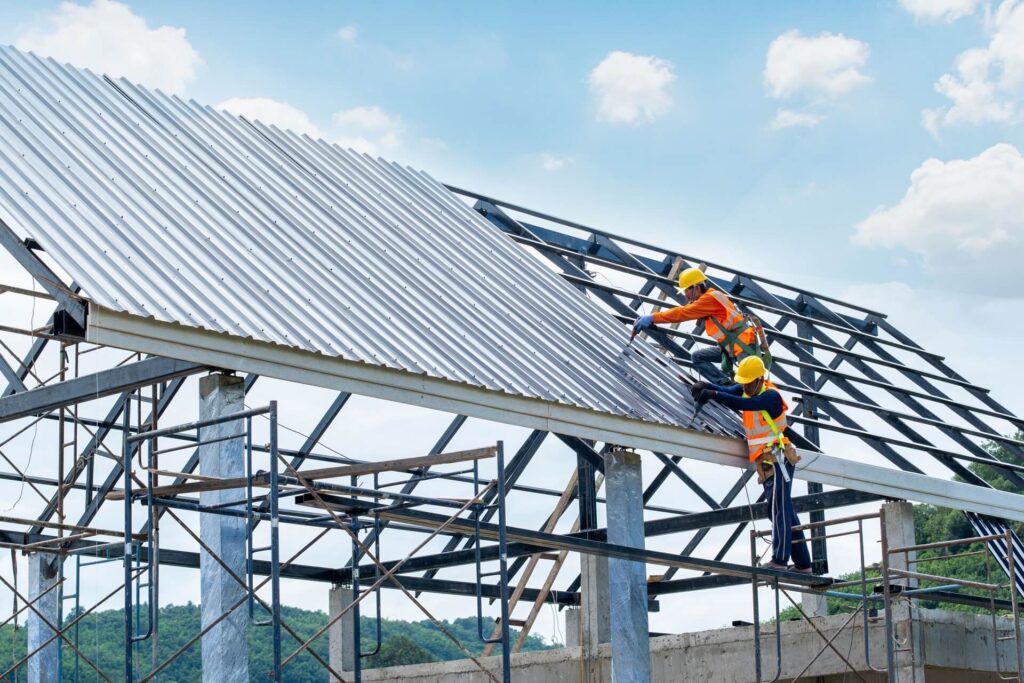 What are the most popular roofing systems among commercial properties? 
Depending on the commercial building, the roofing system varies. You can notice that in businesses that are open to the public, you can see tiles, shingles, and very expensive or premium roofs installed in each one of them. And we have to admit they all look stunning. 
But when you move to the areas where commercial buildings are common but not open for people to visit them mostly because it is not necessary, you will find other roofs. Mostly, metal roofing systems. Going back for a minute to the businesses in the middle of the city, you might not know that some roofs you think are installed are actually others. 
What we are trying to say is, metal roofs are popular among commercial owners, and this is not an exception even for those that look stunning. You might think that it is impossible to have a metal roof that looks good and offers amazing designs. But you find it possible that it is installed in a factory or storage due to the industrial gray color you always look at. 
Well, there is a large variety of metal roofs, and you will get surprised by how much you can get from them. Commercial owners love them because of that: they can get everything by just install any metal roof available in the market. It is only about choosing one that not only gives you the benefits of durability and longevity but also offers an incredible design. 
So, we can definitely say that the most popular is metal roofing for sure, and you should consider it for your business without hesitation.
How can you get a metal roof for your commercial building?
Just like any other roofing system, you need to make sure any metal roof is installed by a professional and contractors. Otherwise, you will end up with an awful result that is similar to the ones you can see in some buildings where people did not take the time to choose a style. For this, you can contact us at Florida Metal Roofers of Hialeah. 
Our company takes care of any commercial metal roof to be installed and can help you with future services such as repairs and maintenances without problems. However, when you think about getting one on your property, let us know what is in your mind. We know you have a preference for some designs and even roofing systems. But you don't have to quit them just because you are choosing metal ones. It is the opposite.
Metal roofs can mimic other roofs quite easily but you will need help in order to choose the right one that will allow you to do it with the system and design you have in mind. Our experts will be there not only to help you with the hard work but also with decision-making. We know there are a lot of options and since it is for your commercial building, we know you don't want to make mistakes and go through the entire process again.
So, to be certain about what you are choosing, just let us know your thoughts. We will focus on your preferences but also needs, and find the best option according to them. Getting a metal roof installed should not be difficult, so we suggest you to take it easy and don't push it. You will notice how things get done in no time thanks to our professionals and how you can have the perfect roofing system thanks to your patience. 
Now, we know you are still worried about all the results you will get and if you will be happy with them. Our contractors and roofers will make sure to show you an example of the final one to guarantee it is what you want. Technology helps us a lot with this, and since we want you to be happy as much as you want to be as well, we will not make any decisions for you nor install something you are not sure about. But once everything is decided, let our roofers do their job and wait for the best.
Time to Replace Your Roof? We Can Help
Considering roofing replacement? When it comes to roofing projects, many homeowners rely on professionals to get the job done. At Florida Metal Roofers of Hialeah, our specialists stick to all the industry standards when installing metal roofing on both residential and commercial properties. Therefore, you can be sure of getting a sturdy roof on top of your house. As a result, you can get the best services from our company in the following fields;
What Locations do we Serve?
Florida Metal Roofers of Hialeah is a name you can trust and rely on. Our metal roofing services were limited in Hialeah, FL when we started. But with time our company has expanded and is now serving over ten locations within Florida.
It shows how reliable we are. Here are some places within Florida, where you can access our world-class metal roofing services: –