Hialeah's
Premier Metal Roofing Systems
It is incredibly hard to choose the roof you are going to have on your property, and the reason behind it lies in all the options you have available. It is not easy to decide which one you are going to choose even when you have a design or idea in mind. And this is because you discover while trying to find that exact design that you can obtain it with different roofing systems in the market.
Take tile roofs as an example. You can obtain the same result with concrete, asphalt, slate, or even cedar. All of them have something unique that makes people choose them over others. But when you look at the base or basic design, you notice it is not hard to get the same one with the other. Therefore, based on this, what is that thing that makes people choose some and not others?
Well, the design is not everything in your roofing system. You also have to think about the functionality and performance of the roof before making the final decision. So, we could say that what makes you go for the final design or roof is how much it can offer in the entire picture: design, style, and performance.
Most homeowners think and choose a roofing system based on the aesthetical aspect and forget about the functional one. While commercial owners just think about how much money they can save and forget about the roof being good-looking and sometimes, even if it is durable or not. You might think we are exaggerating with this, but we are telling you all this due to several facts we have noticed over the years.
Now, since we are talking so much about durability, design, and every benefit, which roofing system would we recommend? Metal roofs without a doubt. The beauty behind them is that they can offer everything and for less money. You can obtain a stunning design or style without having to sacrifice durability and performance in every way. And the best part is that you have a lot of options available.
Therefore, we find it impossible to know to obtain what you are looking for at the end of the day.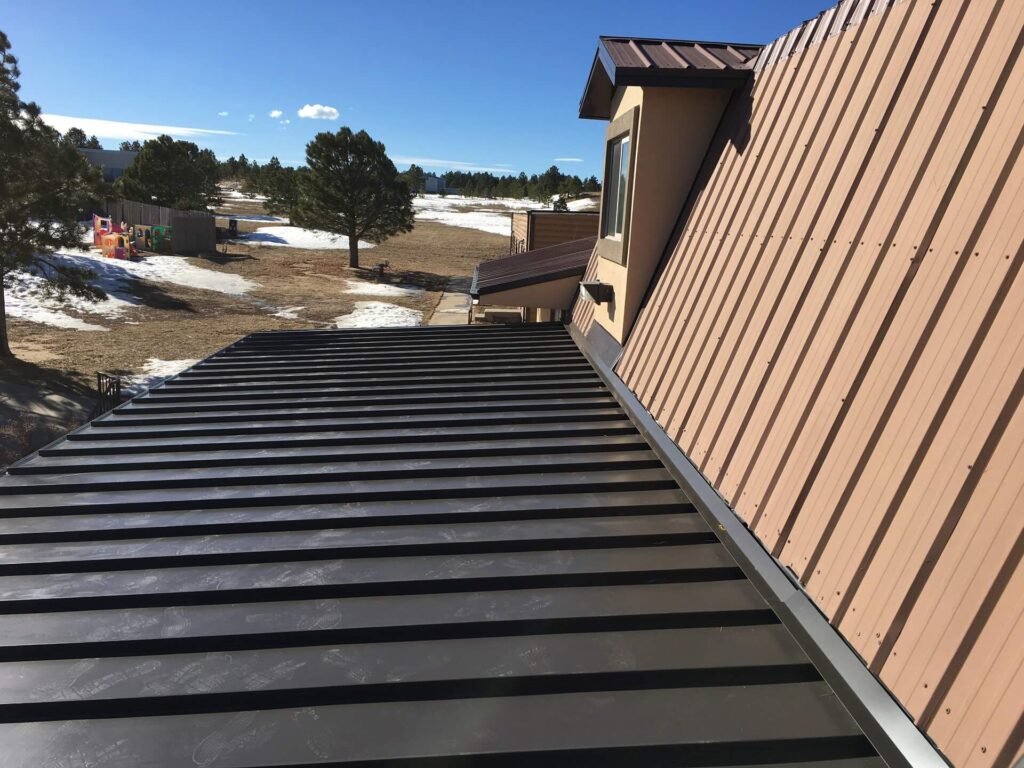 Metal roofing systems available in the United States 
Since we are going to talk about these only, why not start right away? You must know first that every metal roof offers the same benefits: durability, longevity, energy-saving, and environmentally friendly. So, whenever you are going to choose one design, there is not an essential need to worry about those aspects. 
You only need to think about the specific benefits you want besides those. Those benefits depend on a few things: 
The material you choose for your metal roof. 

The coating and paint.

And which roofing system you end up choosing according to certain aspects like the climate in the city and the specific location of the property. 
For metal roofs, some materials work better than others in certain climates and conditions. Aluminum is much better for properties located on the coast thanks to the salt-water corrosion resistance it offers. While steel works better in central areas where residential owners look for very specific designs. 
However, those two options are quite similar and you can get the same metal roof in both materials. When it comes to the other two options—zinc and copper—you indeed will receive better performance and quality. After all, both are the premium options available in the metal roofing market, and although it is not necessary to get them to have an amazing result, you always notice a difference.
Now that this is clear, what metal roofing systems do you have available? In the United States, there are two in particular that are quite popular: standing seam and stone-coated steel. The main reason is that both of them are focused on one design for the property. With a standing seam, you can get a modern design that is quite popular among homeowners in Florida.
While stone-coated steel offers the traditional one most neighborhoods in large cities go for. It is a mix of styles and options with only those two since depending on the color and additions you choose, you will get a different result that goes more to a side than the other. But if you are not that into the modern or traditional designs but rather looking for something unique, you can get metal tile, shingle, and tapered panels roofs.
Those options are available in all the materials previously mentioned and you can get creative with them. In the case of tiles and shingles, it is easy to mimic other roofing systems in case you have some ideas and designs in mind. The list of roofs is quite large when you start getting to know that depending on the color, coating, paint, texture, material, and many other elements, you can get a different system. But despite the one you choose, is it difficult to get it for your property?
At Florida Metal Roofers of Hialeah, we will help you to get the best metal roofing system for your property that goes according to your preferences and needs. Our contractors and roofers are the ones you need in order to get the design you want and be more clear about the options available. We know things can get difficult during the decision-making phase, and it is entirely the wide variety of options' fault. 
So, don't feel bad or sorry for not being able to choose alone since you also need us to get it installed or help you with a metal roofing system you probably have on your property already. Whatever it is, keep in mind that our contractors and experts will also assist you in getting to know every option available. But instead of bombarding you with all of them right now, we want to make sure you are focused on the preferences you have to focus on them and get the options that are closer instead of overwhelming you with them.
Time to Replace Your Roof? We Can Help
Considering roofing replacement? When it comes to roofing projects, many homeowners rely on professionals to get the job done. At Florida Metal Roofers of Hialeah, our specialists stick to all the industry standards when installing metal roofing on both residential and commercial properties. Therefore, you can be sure of getting a sturdy roof on top of your house. As a result, you can get the best services from our company in the following fields;
What Locations do we Serve?
Florida Metal Roofers of Hialeah is a name you can trust and rely on. Our metal roofing services were limited in Hialeah, FL when we started. But with time our company has expanded and is now serving over ten locations within Florida.
It shows how reliable we are. Here are some places within Florida, where you can access our world-class metal roofing services: –